Highlights of President Putin's Speech 1 Year Into Military Operation in Ukraine
Orinoco Tribune, February 22, 2023 — The President of Russia, Vladimir Putin, delivered his annual speech on Tuesday, February 21, before the State Duma and the Federation Council, the two chambers of the Federal Assembly (Russian Parliament), to report on the main currents in Russia's domestic and foreign policy. In his speech, he addressed various issues of relevance not only for the Russian people, but for the international community.
The president's message is a political and legal document that outlines the strategic directions of Russia's development for the near future. It includes both political, economic, and ideological provisions as well as specific proposals in the field of legislative work of both houses of Parliament.
Ukrainian conflict
The Russian president began his speech by declaring that today's message comes "at a difficult and crucial time for Russia, at a time of fundamental change around the world."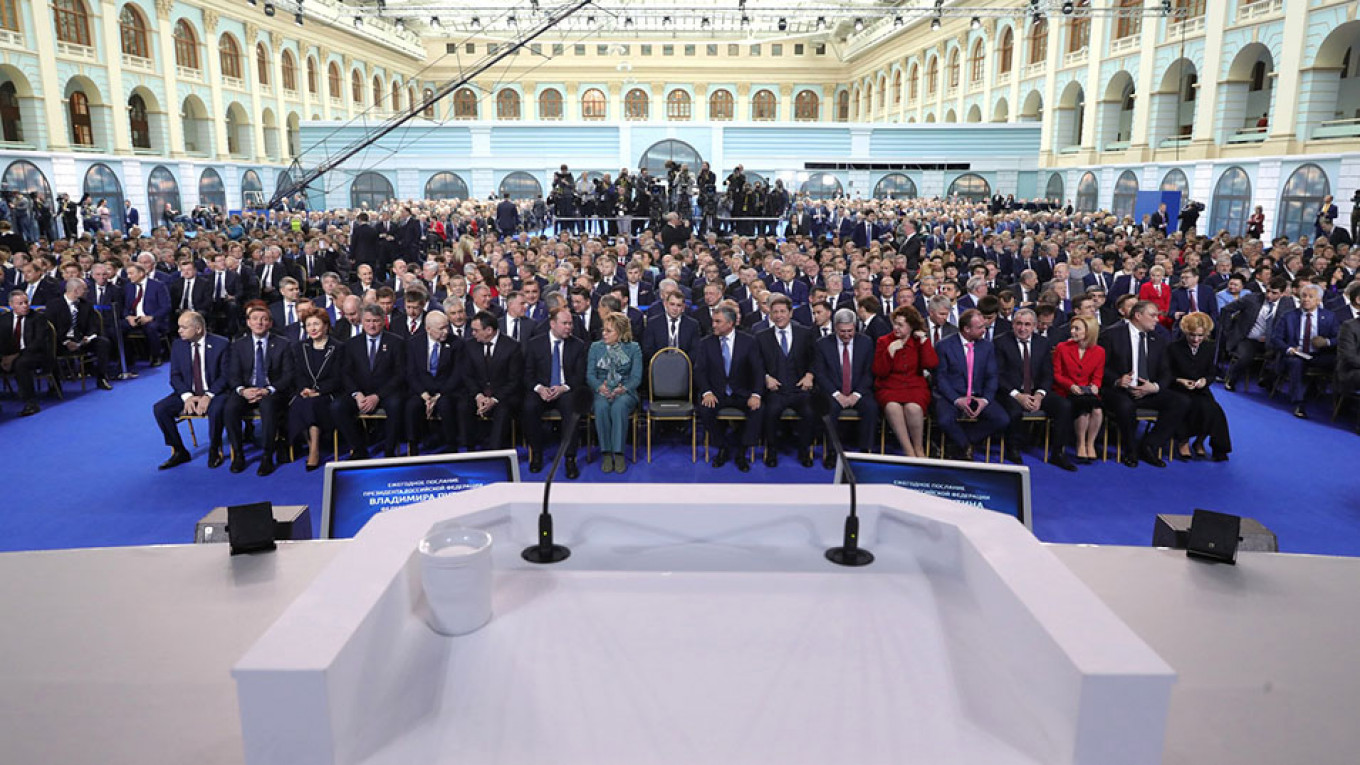 "A year ago, the decision was made to carry out the special military operation to protect the population of our historical lands, ensure the security of our country and eliminate the threat of the Kiev neo-Nazi regime," he declared, stressing that Moscow "will solve its tasks step by step, carefully and consistently."
According to the president, Russia's main purpose in the world arena is to defend its own home, while the West only seeks to gain total dominance internationally.
He warned that the West intends to turn the Ukrainian conflict into a global confrontation. "We understand and we will respond appropriately," he said, assuring that "it is impossible to defeat Russia on the battlefield."
Donbass and the West's "cruel lie"
The president pointed out that previously Russia did "everything possible to peacefully resolve the Ukrainian crisis, but behind its back, a completely different scenario was being prepared."
"Western promises to seek peace in Donbass have turned into a cruel forgery and lie," Putin said. "During all this time in which Donbass was burning, in which blood was spilled, in which Russia sincerely sought a peaceful solution, people's lives were being played with."
Russian President Putin emphasized that while Moscow was truly looking for peace in the Ukrainian crisis, the Western coalition just wanted to win time to implement their own will, neglecting the death and destruction in Donbass pic.twitter.com/EaReLjBht5

— RT (@RT_com) February 21, 2023
Western countries "turned a blind eye to political assassinations, the Kiev regime's crackdown on the unwanted, the harassment of believers, and increasingly encouraged Ukrainian neo-Nazis to commit terrorist acts in Donbass," President Putin said.
In addition, he recalled that before the start of the military operation, the Ukrainian authorities were negotiating with the West for the supply of air defense systems, combat aircraft, and other heavy equipment, and that the Kiev regime expressed its eagerness to acquire nuclear weapons.
"We protect our home, while the West's goal is unlimited power"
"The US and NATO were rapidly deploying their military bases and secret biological laboratories near the borders of our country," said President Putin. "In their exercises, they were studying the theater of future hostilities, preparing a Kiev regime under their control and a Ukraine enslaved by them for a big war." This is a fact that Western countries now admit "publicly, openly, without shame," added the president.
"Russia is not at war with the Ukrainian people, who have become hostages of Kiev's regime and the Western masters who have occupied the country," President Putin said.
The Russian leader said that "nobody in the West takes human casualties into account," since "trillions of dollars are at stake." Western governments are using Ukraine as "a battering ram against Russia and as a training ground," President Putin said.
"Anti-Russian sanctions have failed"
Moreover, according to Putin, the West has deployed both military and economic weapons against Russia. However, "it has not and will not achieve anything," he said, although the US sanctions have caused price hikes and other problems in Western countries which, nevertheless, attempt to blame their troubles on Russia.
"Anti-Russian sanctions are just a means to an end," said President Putin. "The goal is to make the Russian people suffer, but the calculations of these Western 'humanists' have failed."
He noted that the Eurasian country's economy and government administration "have proven to be much more robust than was expected in the West."
Those who impose sanctions are punishing themselves – Putin pic.twitter.com/SvJeYqwzUq

— RT (@RT_com) February 21, 2023
The president assured that Russia will not commit the mistakes of the past: although national defense is the most important priority, developing it cannot repeat the mistakes and destroy the economy. Thus, he stressed that the country entered "into a new cycle of economic growth," pointing out that it has overcome the emerging risks. He added that Moscow will expand its promising foreign economic relations and build new logistics corridors. "Russian authorities know what needs to be done for constant, progressive, and sovereign development, despite all external pressures and threats," he said.
He added that the image of the West as "a safe haven turned out to be just a phantom, a falsehood." Referring to the freezing of Russian assets, he recalled that businesspeople from Russia who kept their funds in Western countries "were simply robbed." He noted that large Russian concerns "must understand that they will remain second-class outsiders to the West," and he urged them to stay in their homeland and work for their compatriots.
According to Putin, Russia is "an open country and a distinctive civilization, but without pretensions to exclusivity and superiority… Russia knows how to be friends and keep its word. It will not let anyone down and will always support [those] in a difficult situation, just like it helped Western countries during the pandemic."
Protect children from "the ideology of degradation"
At the same time, he said, the West understands that it cannot defeat Russia, so it launches "increasingly aggressive" information attacks on the country and targets the younger generation. "They constantly lie, falsify historical facts, do not stop attacking our culture, the Russian Orthodox Church, and other traditional religious organizations of our country," he said. In this context, the president promised to protect Russian children from information attacks, as well as "the ideology of degradation and degeneration."
'God save them' — Putin says the West has gone so far in distorting the historical truth that it has begun to doubt holy texts pic.twitter.com/hlAXyf55nS

— RT (@RT_com) February 21, 2023
"Look at what [the Western authorities] are doing with their own peoples," said President Putin. "The destruction of the family, cultural and national identity, perversion and abuse of minors, even pedophilia, are declared the norm of life, and priests are forced to bless same-sex marriages." President Putin emphasized that, in Russia, adults "have the right to live as they want" and that "is how it has always been treated in Russia: no one interferes in private life."
Suspension of key nuclear treaty with the US
Putin also addressed the issue of nuclear weapons. He noted that, recently, there were NATO statements demanding that Moscow authorize inspections by Western countries of Russia's strategic nuclear facilities under the Strategic Arms Reduction Treaty (START III).
However, the country's authorities know that "the West is implicated in the attempts to attack Russian airfields," since the drones used in these attacks were equipped with the help of NATO instructors.
Russia suspends participation in New START nuclear weapons treaty – Putin

Details: https://t.co/L0b4WK8xRl pic.twitter.com/okrJfQOtpI

— RT (@RT_com) February 21, 2023
In this sense, the Russian president described NATO's demands to resume inspections as a "theater of the absurd." He noted that START III was signed when Moscow and Washington did not consider themselves adversaries—but "all this belongs to the past."
Following these statements, Putin announced that Russia is suspending its participation in START III. According to the president, to return to the treaty, Moscow must first understand the impact of NATO's aggregate attack arsenal. "I have to announce today that Russia is suspending its participation in the Strategic Arms Reduction Treaty. I reiterate: it is not exiting the agreement, it is suspending its participation," he said.
In addition, President Putin noted that certain individuals in Washington are thinking of testing new nuclear weapons, but then Moscow would also carry out tests, since world nuclear parity cannot be violated. Thus, according to the president, the Ministry of Defense and the Russian atomic energy agency Rosatom must prepare to carry out nuclear tests if necessary. However, he stressed that Russia will not carry them out first.