China spreads its wings: As the US tries a new gambit, Beijing has found a way to outplay Washington
George Trenin, RT, October 11, 2023 —
Despite Western attempts to hold its economy back, the Asian giant is improving its balance of trade in an important economic zone.
China still hopes to restore ties with the United States, but relations between the two countries should be based on principles of mutual respect, peaceful coexistence, and cooperation beneficial for both sides. Such is the stance of China's President Xi Jinping, which his Foreign Minister Wang Yi publicly communicated during a meeting with the former US Secretary of the Treasury Henry Paulson at the end of September.
Beijing's wish to restore relations with Washington is hardly surprising since the ongoing conflict between the world's two wealthiest countries is a strong impediment to the growth of China's economy. However, the Celestial Empire's peaceful mindset has not yielded any results, and in the current geopolitical situation, China has reoriented its export model to focus on other world regions.
The post-Soviet space is particularly important regarding China's new foreign policy and economic paradigm. Over the past two years, Chinese exports to some of its members have doubled while the region's trade with other countries has declined or stagnated.
Oil and water don't mix
Attempts to restore trade and economic relations between the world's two giant economies – the US and China – received wide media coverage at the end of August.
According to the Global Times, a nationalist tabloid close to the circles of power, the visit of US Secretary of Commerce Gina Raimondo to China could signal changes in the US political course. Chinese journalists and analysts saw this as a step towards normalizing relations between the countries and expected a meeting between Xi and Joe Biden could happen next.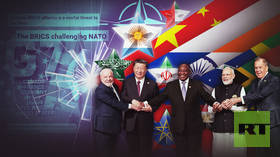 Read more
The Western propaganda machine claims BRICS is a 'challenge to NATO' and a 'mortal threat' – is this true?
A month passed, however, without any further action. So far, the meeting between Chinese Commerce Minister Wang Wentao and the US delegation only helped solve some private business issues, and a decision was made to support the two countries' enterprises in "carrying out pragmatic cooperation." Meanwhile, despite the efforts to promote dialogue, data shows that US imports from China have decreased. Giant US corporations like HP and Stanley Black & Decker continue to reorient supply lines for their American consumers. For example, HP Inc. plans to boost the production of premium laptops in Mexico and to increase the assembly of its mass-market models in Thailand.
As a result, total US imports from China decreased by 24% in the first five months of 2023 compared to the same period in 2022.
According to Trading Economics, citing China's General Administration of Customs, the annual value of Chinese exports decreased by 14.5% in July 2023. This is the most significant decrease since February 2020. Analysts predicted a smaller drop – by 12.5%, but low global demand has caused a more severe fall than was expected.
This was caused by the fact that China's main trading partners have cut down on importing Chinese products. And we are not just talking about the United States  – supplies to EU countries and ASEAN states fell by 20.6% and 21.4%, respectively.
A growth spurt
Since it is unable to increase trade with the United States and its numerous allies, China is expanding its economic presence in other countries. In particular, it has been developing ties with nations that were formerly part of the USSR.
Beijing has focused its particular attention on Central Asia. To emphasize the importance of this region, the Chinese government organized a large China-Central Asia Summit.
According to Wang, this was the country's first major foreign policy event this year.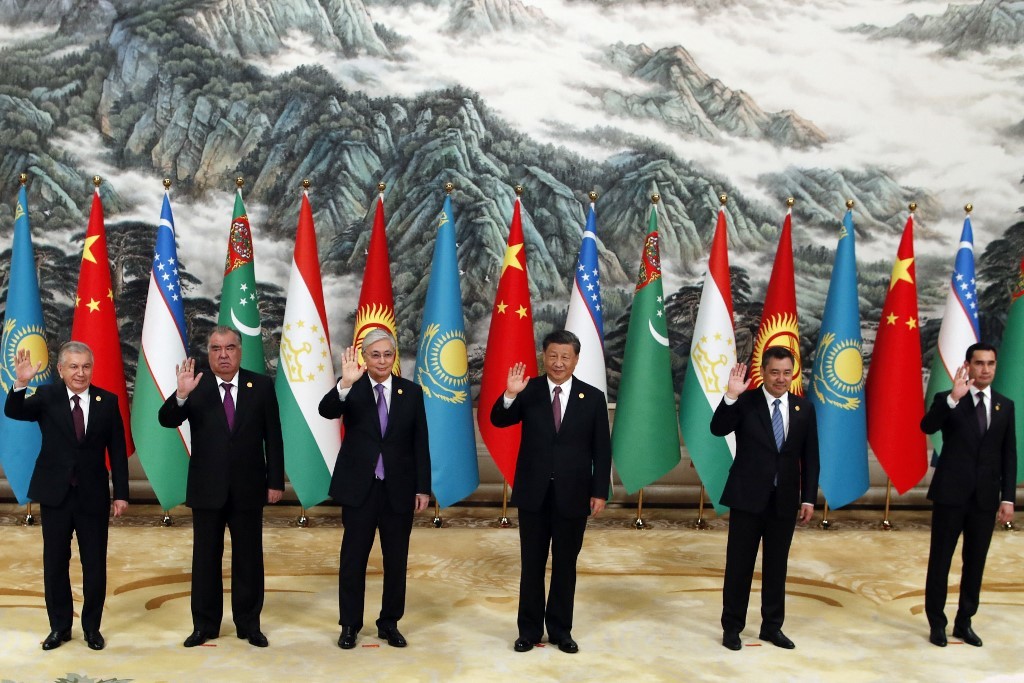 In the first four months of 2023 alone, China's trade turnover with these five post-Soviet countries increased by 37% compared to the same period last year and amounted to over $25 billion, China's General Administration of Customs reports. This is even more striking when we consider that by the end of 2022, trade turnover with the summit participants has already exceeded $70 billion. Moreover, comparing the export statistics for the end of 2021 with those for mid-2023, we see that Chinese exports to Tajikistan and Uzbekistan have almost doubled. Regarding Turkmenistan, Kazakhstan, and Kyrgyzstan, the exports increased by more than half in the same period.
The robust expansion of Chinese trade has impacted not just the Central Asian countries. China's exports to Georgia and Belarus have more than doubled, while exports to Armenia have grown by over 60%. In this respect, only the Baltic states and Ukraine stand apart from other post-Soviet nations. These countries turned out to be in the opposing camp, where the US and EU are increasing their export flow.
Read more
Timofey Bordachev: Zelensky's top aide publicly insulted China, here's why Beijing's response has been so restrained
It must be noted that China operates in a very systematic manner in its export regions. China's private companies supply the importing countries with all types of goods – from light industry to high-tech industry products. Government contractors build railway corridors (such as in Uzbekistan) as part of the "One Belt, One Road" project. Similar large-scale Chinese infrastructure projects are being constructed not only in Central Asian countries but also in Armenia and Georgia. China has also recently concluded a strategic partnership agreement with Georgia, which implies expanding cooperation between the two countries on all levels.
A major displacement 
Despite having fewer export markets, China's economy continues to grow, though not as fast as it used to. This is largely possible due to trade with Russia – the trade turnover between the two countries is rising, even though at a slower rate. Mineral fuels, oils, and distillation products remain the main exports from Russia to China. The discount on oil that Russia provides to its partners, which inevitably affects global energy prices, also positively influences the Chinese economy.
At the same time, China is concluding profitable contracts not just with Russia but with other countries. Experts of the US-China Institute believe that China's infrastructure projects in Central Asia demonstrate a desire to find cheap suppliers of energy resources. For example, Chinese companies have bought a controlling stake in the Kazakh oil company Aktobe Munai Gas. They are also involved in projects like the China-Central Asia gas pipeline, which transports natural gas from Turkmenistan through Uzbekistan and Kazakhstan to China.
Analysts note that China plans to remain in Central Asia in the long run and is committed to developing cultural and educational ties with the region. The Chinese Government provides scholarships for Central Asian students to study at Chinese universities and promotes the study of the Chinese language in the region. Some experts are concerned about the potential consequences of China's economic influence in Central Asia since China may use its economic power to strengthen its influence and even politically pressure competitors.
In fact, specific prerequisites for this already exist. In Uzbekistan, for example, trade turnover surged by 30.5% – up to $6.9 billion – due to increasing Chinese exports. At the same time, Uzbekistan's exports to China decreased by 1.6% to $1.53 billion. This strengthened China's position as Uzbekistan's largest trade partner, and its share in the balance sheet increased from 18.6% to 19.7%.
Over the past year, the share of Türkiye in Uzbekistan's foreign trade turnover fell by 9.4%, and South Korea's share fell by 11.9%. Moreover, internal trade between Central Asian countries is also on the decline. The trade volume between Uzbekistan and Kazakhstan is slowing down and decreased by 0.5% in January-July, while trade with Kyrgyzstan has decreased by 5.6% to $623.2 million.
A similar trend is visible when it comes to trade between almost all countries in Central Asia. Meanwhile, with shares amounting to only several percent, Türkiye and the West are increasingly losing their positions to China, confirming it as the sole leader in the region.
Nevertheless, the US government continues attempts to form ties with Central Asia. The first summit between the leaders of Central Asia countries and Biden in the "5+1 format" demonstrates these efforts particularly well.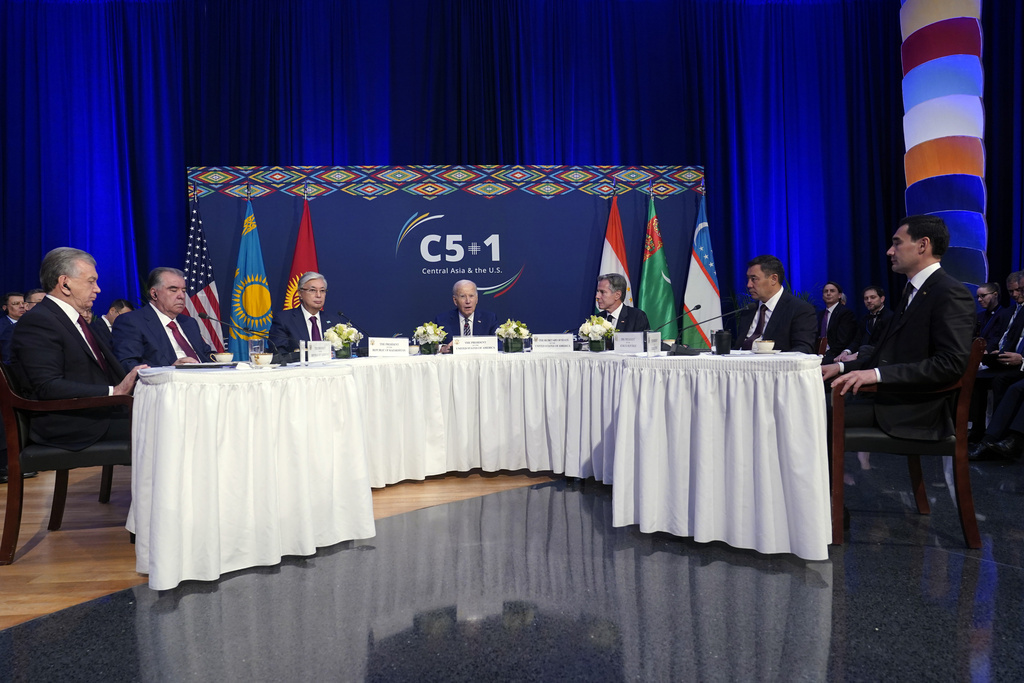 American pro-government experts speak positively of the steps taken to strengthen the US presence in the region but are rather restrained in their assessments. They believe Washington cannot replace Russia or China, nor can it force Central Asian leaders to choose sides. Central Asia is simply too remote – politically, historically, and ideologically – for the US to offer it something valuable.
Central Asians don't see enough US engagement or investments in their region to risk losing economic relationships that provide much more tangible results – such as bank transfers from migrants working in Russia or investments in infrastructure from Chinese companies.